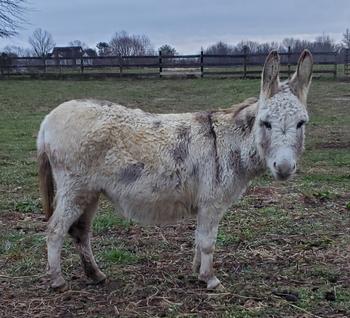 Wanda
Gender: Jennet
Date of Birth: 30-Dec-99
Color: gray and white
Birth Height: 32"
Sale Pending



It breaks my heart to offer this girl for sale...she is wooly and oh so sweet. I have had her for 3 years and cannot get her bred....I am finally giving up. She is the first to leave the hay and come over to be loved on, she is absolutly beautiful, and has the kindest eyes of any donkey I ever had....She will make a great pet or compainion animal...or even a cart donkey.

So if you ever dreamed of owning a wooly, but didnt want the high price tag of a breeding jenny, this may be your girl....if your looking for a breeding jenny, this is definiatly not your girl!!

Wanda is 7 years old.